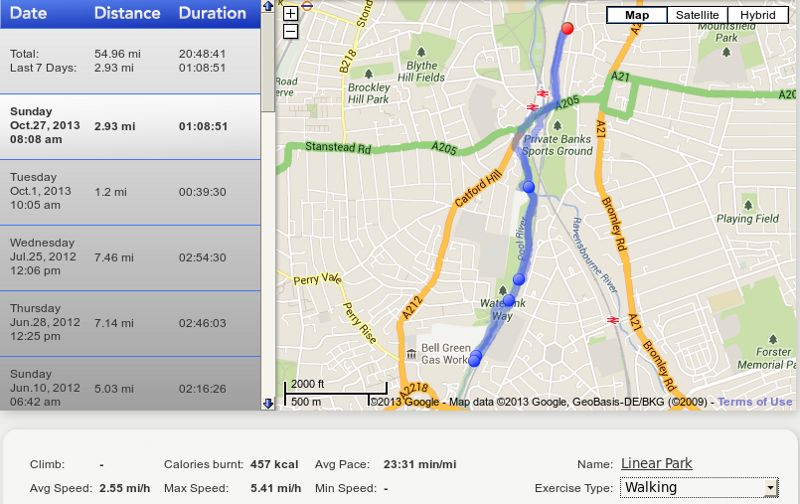 The very odd thing about this walk is that it was only 2.93 miles long. After walking 1.5 miles I was still walking away from home looking for a good point to turn round and head for home again. I'm sure my route back to home was slightly longer than the outgoing route - if only by a matter of a few yards. So to walk less than three miles seems unlikely, and yet that is what my sat-nav says I walked !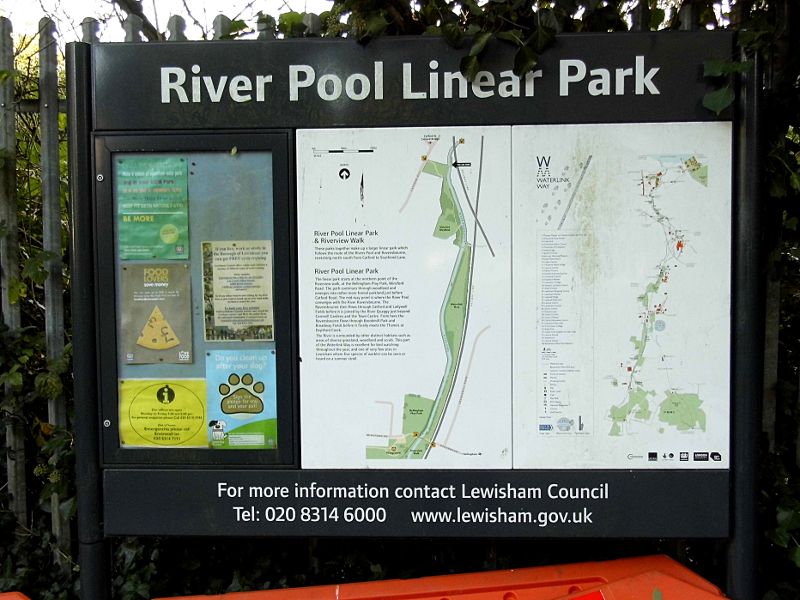 I'm sure on older maps the river used to be known as The Pool River, and I still find myself referring to it by that name, but it seems it's proper name now is The River Pool.
Most of the park is sandwiched between the river and railway line.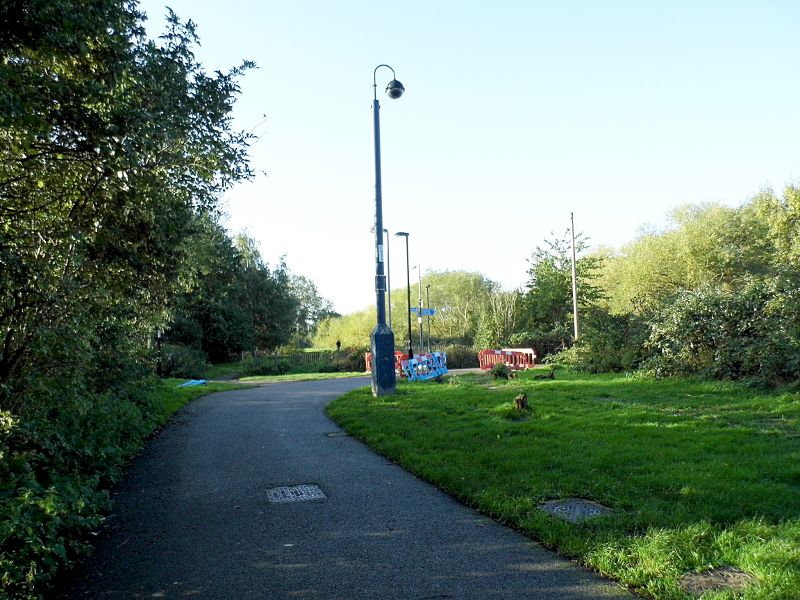 10ft to the left of this picture is the railway line, and the river is possibly 20 ft off to the right, and yet Big Brother still feels it is important that no sedicious activity, like plotting the overthrow of the government should take place without it being recorded for posterity.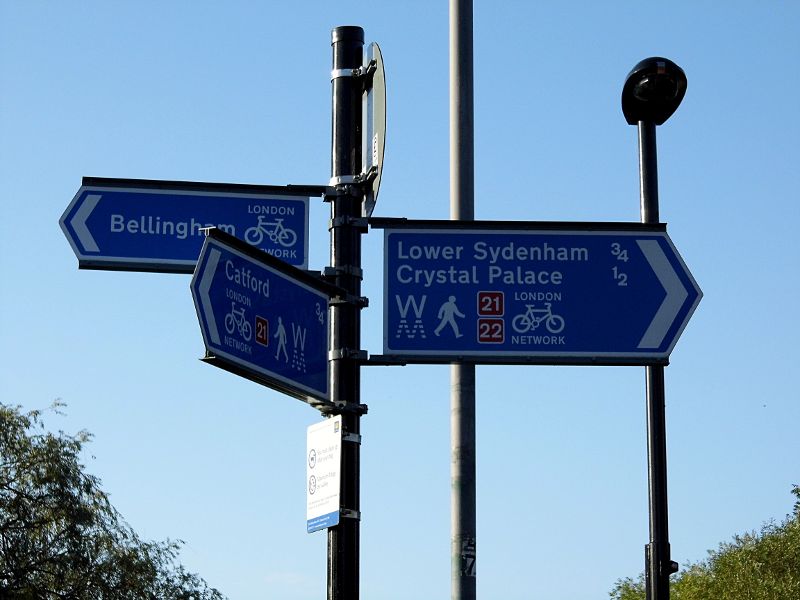 I'm glad I don't rely on these signposts to find my way around. This one must be wrong.
Lower Sydenham is barely 3/4 (0.75) mile away, and yet Crystal Palace must be at least 1 1/2 (1.5)miles away, and maybe 2 1/2 (2.5)miles away.
For reasons that I don't fully understand, the second half of the park has a different name to the first.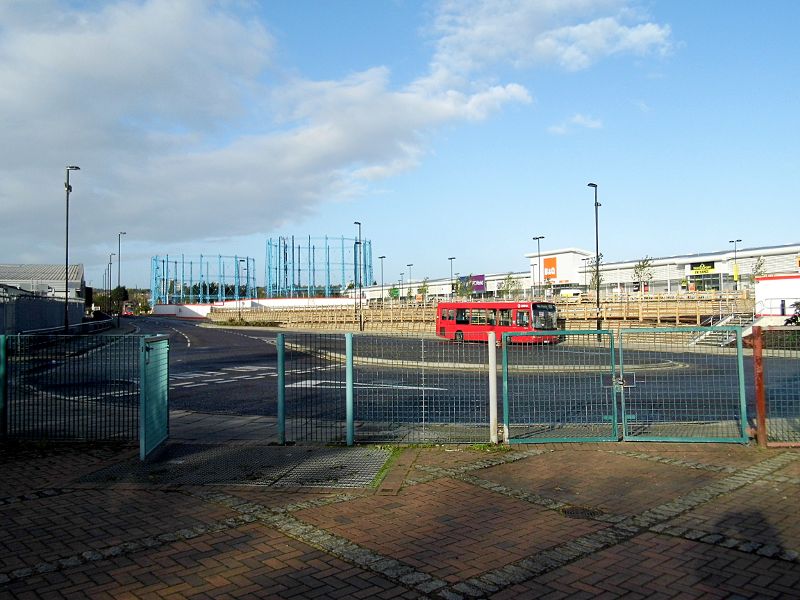 This was almost as far as I walked.
A little beyond the last picture, which is approximately 1.5 miles from home on this walk, is a bridge that crosses the river. I walked as far as that bridge and crossed the river. There is no official footpath in the direction of home on that side of the river, but there is an easy going, if slightly muddy track that joins the main path where the incorrect signpost to Crystal Palace is.

I had started to feel the effects of walking, maybe just a little fatigue, before the half way point, but if that was 5 out of 10 on a scale of fatigue, I only felt about 6 out of 10 when I got back home again. In theory I could have easily walked another mile or two before resorting to crawling back on my hands and knees ! Some bits of my body are evidently in better shape than I usually think they are.

There was proof of this, well something hinting of proof, just half an hour after getting home again. Initially I got out of my outdoor clothes, and had a lay down. Then I got up to check my email etc before laying down again. That only lasted 5 minutes before I decided to go to the corner shop. So I dressed again and set off on the 2 minute walk.

I didn't put a coat on for such a short walk, and yet I felt quite comfortably warm in the sunshine, and even the wind, was getting quite strong at that point, didn't feel cold. I was very tempted to go for another walk on the strength of how I felt just going to the corner shop. I'm glad I didn't because for a while it came over very gloomy, and it seemed that it would rain. It didn't rain, and it still hasn't, but the wind still seems pretty lively.

While some bits of me are evidently working well, and much of me feels pretty well, there are still the old sore points to contend with. I get lots of assorted aches and pains from my chest. As far as I can tell they are all "old wound" sort of pains, and nothing of a serious nature. Much of the time they are ignorable, and they only intruded into my thoughts a few times while I was walking.

My left arm, and more specifically my left hand is still a major source of bother. While I was out it felt like my hand was getting colder and colder - almost as if it had no blood flow to it, and yet I've double checked what the doctors check that there is a very healthy feeling pulse to the hand. The pain in my little finger can sometimes take on the nature, but never the strength of a toothache. It can just sit there aching with no way of relievig the pain. Rubbing it just feels worse. Keeping it warm sometimes seems to help, but is not reliable. It's not like this all the time, but when it wants to be a nuisance it can be a bloody nuisance (like right now !!) !

My left hand is going to be the prime topic of conversation when I see the cardiac surgeon for my follow up at Kings College Hospital tomorrow (assuming the buses and trains are running after the threatened hurricane). I feel sure my concerns will be mostly dismissed, and I'll be told to just be patient because it will heal eventually. I know that already, but it will feel good to release some venom on those who will understand it best !